A little about me...
Lucy Oliveira is a Ventura County REALTOR® and part of the Seaside Realty team, who combines her love for the industry, entrepreneurship skills, and passion for helping others build wealth through real estate.
Lucy is an experienced agent; her fast-growing business has helped many achieve their real estate goals, and she truly loves working with people!
Her extensive business background and negotiating skills have greatly assisted her clients. She is a problem solver, with a great knowledge of the Ventura County area and market conditions. She can assist you in connecting with the specialists you will need in the search for or sale of your property (i.e. mortgage lenders, title companies, inspectors, appraisers, contractors, and many more.)
Born in Brazil, making her the only Brazilian Real Estate Agent in the area, she has been a resident for over 13 years. She understands the numerous intangible benefits of living in the Ventura County Area with its unmatched weather, lifestyle, culture, and diversity.
Lucy has developed an unmatched reputation due to her integrity, upbeat personality, solid work ethic, and drive to give back through philanthropic projects within the community.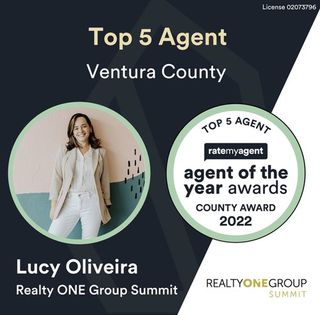 Client Success
"We love Lucy! Lucy helped us navigate the many steps it took to reach our real estate goals over this past year. She sold our condo very quickly and then helped us negotiate to get an offer accepted and close on a single-family home that checked all of our boxes! She even made herself available to us after the sale was complete and helped us to coordinate getting keys, etc... when we were out of t
…
Read More
own. Lucy is knowledgeable, easy to work with and flexible. She lives locally and knew all the areas that we were considering buying in. We were skeptical at times that we wouldn't be able to achieve our goals during the past year with COVID and housing market craziness, but Lucy was always positive and professional and never doubted we would find our home."
Read Less
"It' 's very rare I leave a 5-star review in each category, but Lucy hit all the marks on this one. From day 1 she came to my house prepared, knew the fair market value of my home, and was very professional. Throughout the process, let me know what was going on and explained to a non-real estate person what specific terms meant and the best possible way to proceed. That being said, my house opened
…
Read More
and closed at breakneck speed and within 29 days, it closed. Lucy was conscientious, tenacious and a joy to work with; I referred to her as my puppy bulldog in a nice way. She will always have your best interest at heart and I highly recommend Lucy if you are buying or selling a property, she really was the best. Thank you for everything Lucy!"
Read Less
"Lucy is above excellent in market knowledge very knowledgeable and easy to deal with she absolutely knows what she is doing and what to do she is on top of my list for any upcoming real estate transactions Lucy job well done thank you."
"Hardworking realtor! I had the pleasure of working with Lucy Oliveira as the listing agent to sell my house in Silver strand. Not being a full-time resident, she was so helpful with local handymen and termite people, which made the process so much easier for me. She organized fabulous photos and was responsive to every call and text. We shared a dialogue in the process that was much appreciated. H
…
Read More
er energy and modern marketing strategies aided in selling the house quickly."
Read Less
"Lucy was outstanding through this process complicated because I am the trustee for my father with a complicated title. Lucy was very professional and went above and beyond the call of duty. She has a level of integrity that's hard to find these days."